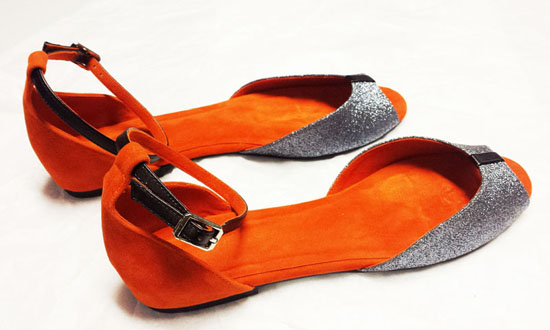 When I was a kid, I don't remember how old I was then, I went shoe shopping with my Ma. It was the middle of the school year and we were shopping not for school shoes, but for party shoes.
I didn't have an idea of what I want. Ma had always chosen for me. We were in a shoe store and she told me I get to pick this time.
I went straight for the window display where they had three sparkly pairs of low-heeled (less than an inch) closed-toe pumps. My fingers have barely touched them when the male sales attendant emitted this scoffing laugh. I must have shot him a dirty look because he stopped. It was too late, though. Ma was already explaining why I should choose a different pair.
The problem wasn't the half-inch heel. That year's school shoes bought at Gregg Shoes already had soles a least that thick and much heavier, too. It wasn't that they were too big either. I have normal-sized feet for my age. The display sizes looked like they might fit, maybe if I stuffed a cork insert.
Ma explained that they were not shoes for children. They weren't even shoes for her. She was probably in her late thirties then.
The sales lady was more blunt, "Pang-matrona!"
This was probably around the late 80's when children's shoes always meant charol or shiny patent leather and always in white, black, pastel pink, or baby blue.
My not-age-appropriate choice that day were glitter shoes, meant for women who went ballroom dancing with their dance instructors or D. I.'s. My memory fails me and I can't recall if they were sequined or covered in lamé fabric.
I still haven't grown into the habit of questioning my parents then so I imagine it wasn't too difficult to steer me to a pair that to my mother's eye would look more appropriate and less, well, she didn't say it in so many words but I picked up on it just the same, less gaudy.
Looking back on that with my adult sense of melodrama, I almost wished I raised a stink about it because not letting a little girl have sparkly shoes is so contrary to what they tell us as little kids. I mean, many fairy tale princesses have sparkly shoes!
When Cinderella showed up at the ball, no one went – "Pretty girl, shame about the tacky shoes." Glinda gave Dorothy the ruby slippers (fine, they were silver in the books) without comment. She didn't say, "Maybe when you're older, dear." Fairy tale canon meant shimmering dresses, shiny hair, glitzy tiara or magic wand, and sparkly shoes!
I didn't get to wear them as a kid but it's not really too late for me. Outside of Halloween, I probably can't get away with the whole fairy tale canon, but I can still rock sparkly shoes.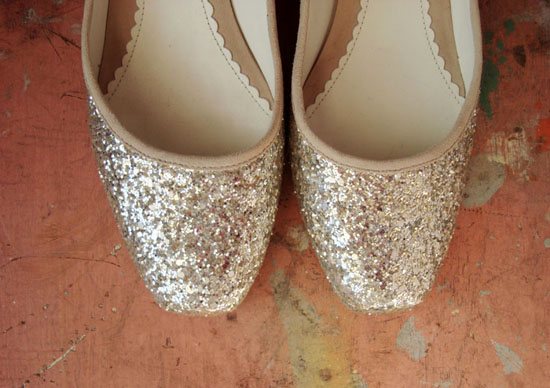 How To Wear Sparkly / Glitter Shoes
1. Keep the rest of the outfit low-key. Make the shoes the focal point.
2. Stay away from large prints.
3. During the day, silver and other neutral metallic colors almost always look good with white.
4. Dark wash denim will make sparkly shoes pop.
5. Sparkly doesn't have to mean the entire shoe. Small metallic / glitter / hardware details can make a huge difference.
S. T.