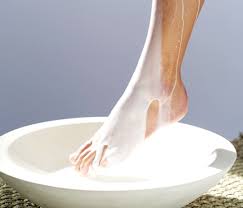 We covered making your own foot spa right at home in the previous post, but sometimes we need something even higher on the levels of self-pampering.
This simple sweet and creamy DIY milk spa is just what you'd need to get to pampering tired, dry, and (heaven forbid) cracked feet–and you can make it with just a few items from your kitchen thrown together to give your feet what they deserve.
What you'll need
1/2 cup sugar
2-3 cups milk
7-8 cups of water
2-3 tablespoons of your favorite body lotion.
Find out how to soak your way to soft, exfoliated heaven here and enjoy your baby soft feet!