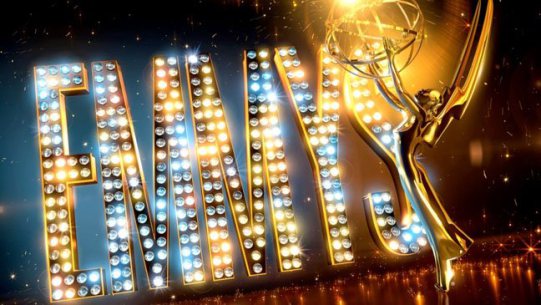 More often than not, celebrities opt for long gowns during Red Carpet events such as the Emmys. When you're wearing floored dresses, nobody really ever cares about the shoes you're wearing. You'll see so many Best and Worst Dressed lists, and no one bothers commenting on the shoes. So while I was browsing all the photos from the last Emmys, I paid attention to the actresses' feet instead, and I compiled the best looks that caught me. And the shoes they wore!
10. ANNA GUNN
(Breaking Bad)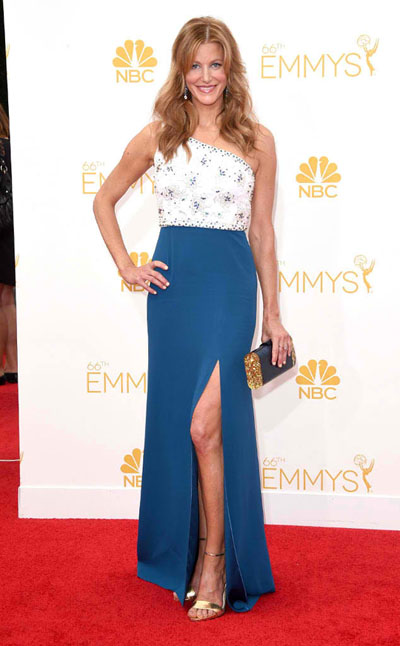 Anna Gunn did not only win as Best Supporting Actress for Breaking Bad; she also won the audience fashion-wise by picking an elegant dress from the Jenny Packham Resort 2015 collection. I love how she showed off an equally sophisticated gold ankle-strap sandals with the long blue skirt and thigh-high slit.
9. JESSICA PARE
(Mad Men)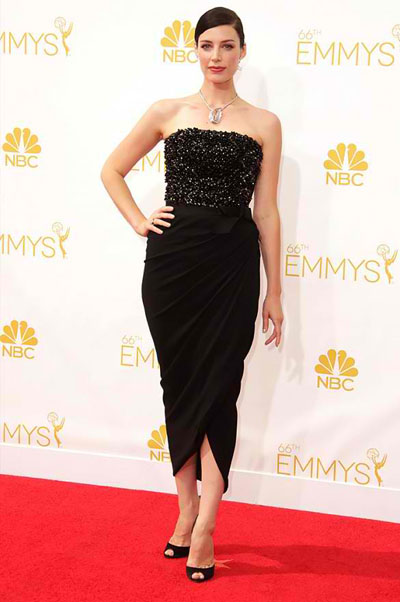 An LBD might have been a safe choice for red carpets, but the Mad Men actress chose something that's anything but boring. Jessica Pare chose a strapless sparkly top and a draped skirt that accentuates her curves. She finished the classy effortless ensemble with black Christian Louboutin peep-toes.
8. KATE MARA
(House of Cards)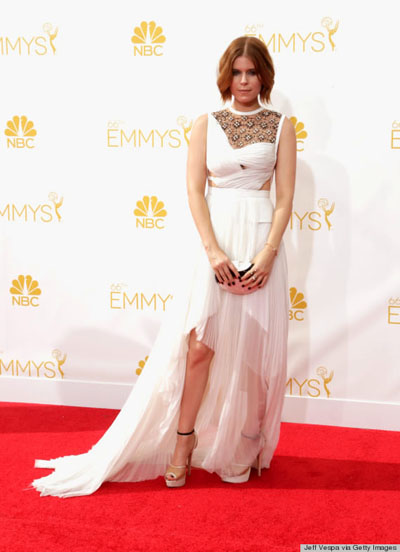 Trust Kate Mara to always surprise you with her fashion choices. Her J. Mendel dress is a bit too complicated – silk chiffon here, embroidery there, tulle here, and pleats there. It was an interesting whole, but it was her Charlotte Olympia platform heels that stole the show.
7. LENA HEADEY
(Game of Thrones)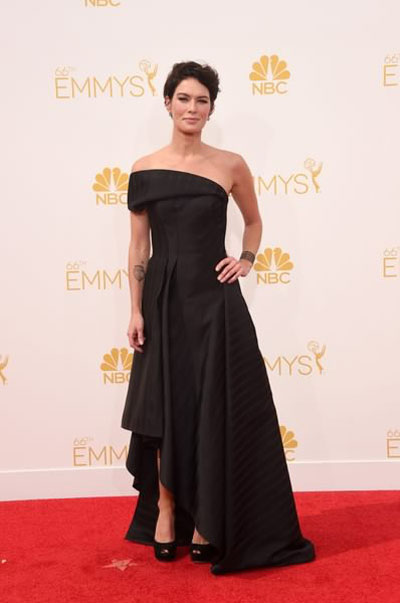 If you think Cersei Lannister is such a badass, the actress playing the GOT character is ten times more the badass. I don't know about you, but this look is so gorgeously gothic to me. Lena Headey looks edgy without being scandalously loud in this one-shouldered hitch-hemmed ball gown and classic black peep toe platforms.
6. KRISTEN WIIG
(Saturday Night Live alum)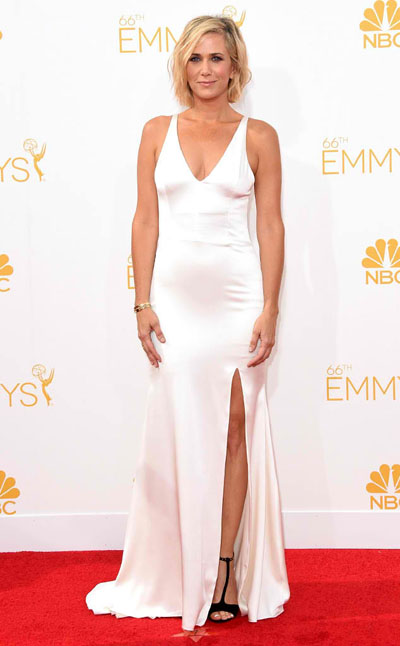 White is always a tough choice, because you wouldn't want to look like a bride on the red carpet. Kristen Wiig avoided this trap and channeled a Sexy Goddess in a Vera Wang silk gown with a plunging v-neck and a front-slit, capping the look off with sexy black t-strap heels.
5. JULIA ROBERTS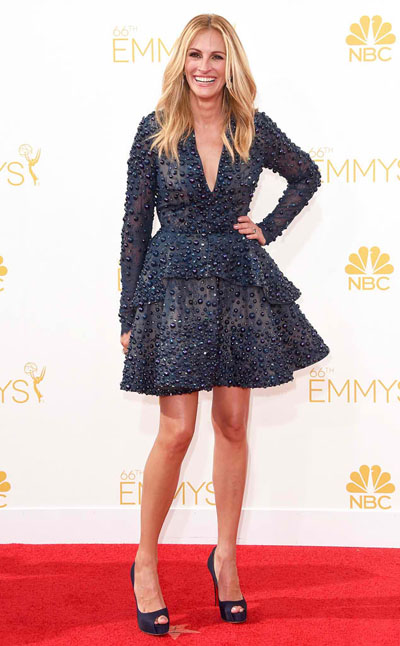 It seems like Julia Roberts is someone who can get away with anything. While everyone else strutted in long gowns that show off their curves, she went the other way around. Julia wore a dark blue beaded Elie Saab Couture dress, and more than getting away with it, she looked stunning. She capped off the look with the finest pair of Christian Louboutin navy blue heels.
4. JULIENNE HOUGH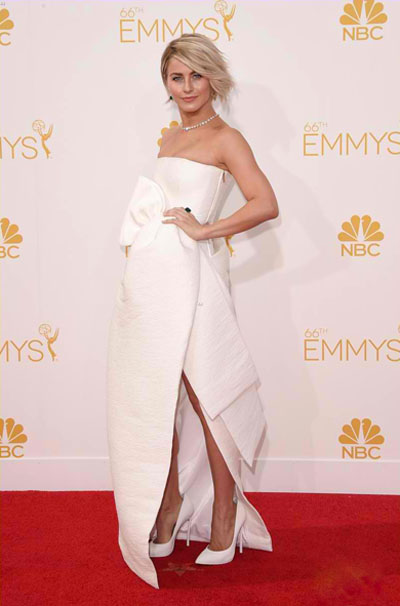 The Dancing With the Stars judge took a risk by wearing a tailored DSquared white gown with an enormous bow, and I say it's all worth it. Julianne Hough pulled off this dramatic yet impeccably made dress with such poise and comfort. I am also gushing over those white pointy Casedei stilettos.
3. LOUISE ROE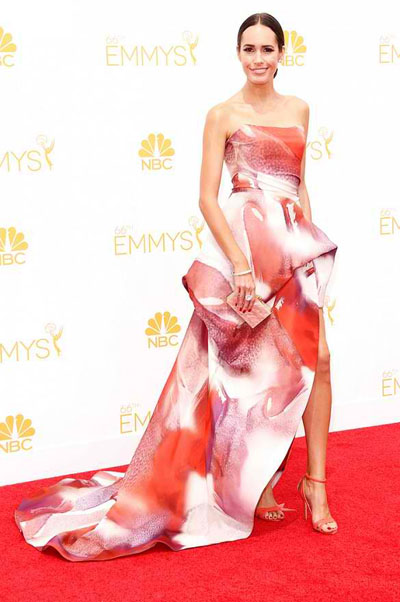 TV host Louise Roe is one huge fan of Filipino designer, Monique Lhuillier. She says that wearing Monique Lhuillier's creation always feels like entering into some kind of fairy tale. She sure looks like a princess in this Hollywood glam corset and train. Plus don't you just love that red and orange palette? She also chose those pretty one-strap heels by the same designer to go with that gown.
2. MICHELLE MONAGHAN
(True Detective)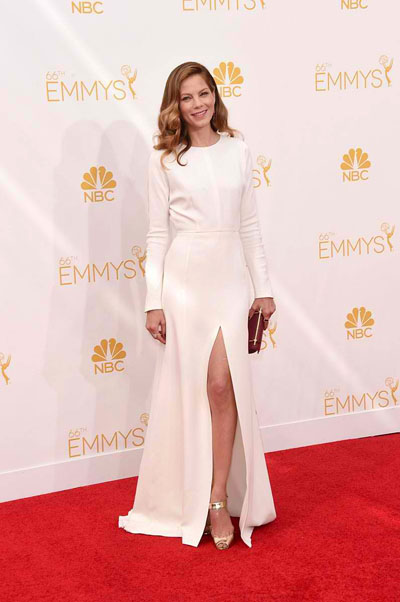 This is definitely one of my top looks from that night. True Detective star Michelle Monaghan looks immaculate in a long sleeved silk white gown from Giambattista Valli. She made sure to show off her gorgeous legs with the front-split skirt. To blend in with the glamour of this look, she put on a pair of 'Just On' Christian Louboutin sandals.
1. JANUARY JONES
(Mad Men)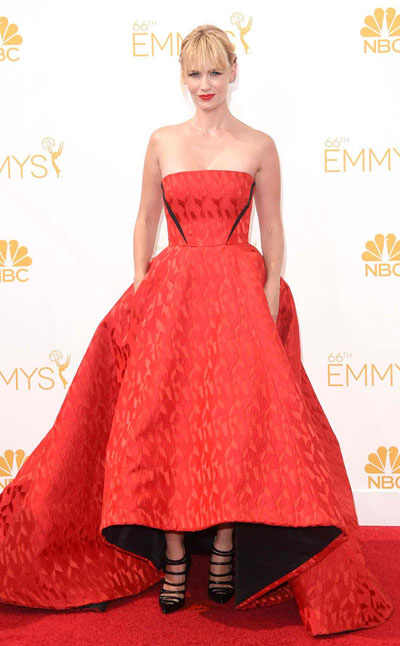 Getting my number one spot for the Best Dressed is Mad Men actress January Jones. She arrived ravishing in a red Prabal Gurung gown. I'm obsessed with this gown, and she gets my Belle of the Ball award for this. The front hem also perfectly showcased her strappy Christian Louboutin shoes. This is sheer perfection – from head to toe!
What do you think of my list? Do you agree or not? Share your own favorites, too!
By P. P.