There will always be at least one moment in a woman's life that's considered a "high-heel occasion". Perhaps it's prom, a wedding in a hotel ballroom, or a job interview. You can't avoid and escape it. You don't want to be remembered as the girl who was not appropriately dressed.
The problem is, you're not really a high-heels person. You've always been a tomboy, your best choice of footwear always comes down to your worn-out Chuck Taylors or your trusty pair of ballet flats, and the girliest pair of shoes you own are embellished flat sandals.
How do you deal with high heels for the first time?
1. Find the perfect style and fit.
Stilettos are beasts; they make you feel sexy but not if you're uncomfortable. If you're a high-heel newbie, this style may not be the best kind for you. I suggest you try other styles such as those with thicker heels, but not overly chunky, so you can still look dressy. You may also opt for platforms for better support. Aside from the type of heels, they also have to fit perfectly. It's a struggle to walk in shoes that are too small or too big.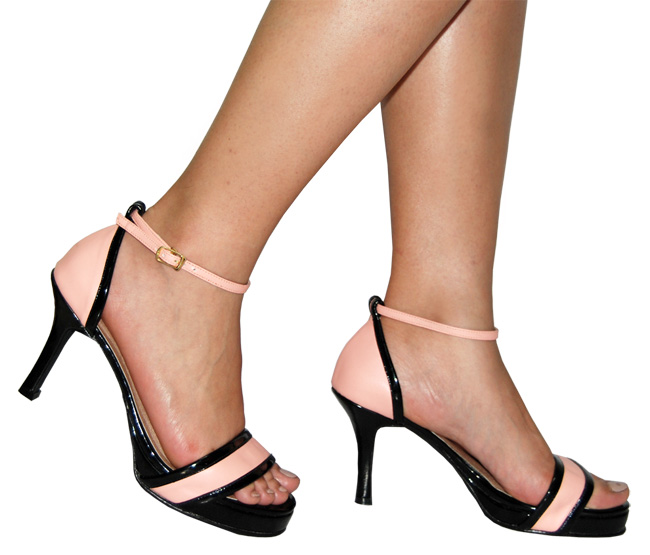 The width of the heels and the platforms at the front make the Miranda heels perfect for high-heel newbies.
2. Put cushion on your toes.
Keep the blisters away by padding your shoes where they might hurt. Try walking in them for a while and feel where there's pain and rubbing. Usually, if it doesn't have a platform in front, you will need to put rubber pads on it. Some girls use Band-Aids if the back of the shoe keeps on painfully stroking the skin, but they don't look cute at all – so go for the cushion strips. Believe me, they can save you from a whole lot of trouble.
3. Test drive your heels before the big day.
Models didn't come out of their mothers' wombs in 5-inch heels. They practice and then practice some more. Wear your heels then walk around the house, use the stairs, and try to dance a little until it feels natural and graceful. Walking in a straight line isn't only model-like, but they make your every step stable and steady. Another key is to straighten your body, from your legs all the way to your spine. If you keep slouching, your body weight goes down to your feet, which makes walking in high heels strenuous and dangerous.
4. Be confident.
Aside from a pair of flats in case it gets really bad, bring a lot of confidence with you. They say fake it 'till you make it. Strut around as if you've been wearing high heels all your life. Chin up and smile even if they hurt. Wearing the right kind of attitude goes a long way.
They don't call it "tiis-ganda" for no reason. Wearing high heels can be such a nightmare especially for beginners, but sometimes you gotta go out of your comfort zone, ditch your 6-year-old sneakers, and put on some sexy killer heels. I won't guarantee you won't trip a few times, but being able to dance the night away on your 4-inch heels will always be worth it.
By P.P.